How to get to Baga and Calangute beach
You can reach both beaches by private transfer. Taxi costs around 20-40€, depending on where you start your journey. 
From any place in Goa you might first need to get to Mapusa. There is a bigger bus station where you can catch a bus to Baga. Ask for direct bus to Baga beach. It passes through whole town and you can get off wherever you need to. Otherwise there is a bus going to Calangute. It will drop you off at Calangute stop (map). From there it's still 10-20 minutes walk to Baga beach. You can also take a tuktuk or a taxi.
There is a bus going to Calangute beach from both Mapusa or Panaji. The price is around 1-3€. It is a local non-AC bus. The bus can get really crowded on weekends and holidays.
We found both Baga and Calangute very similar. We stayed in a guesthouse at the very end of Baga beach. That was a bit inconvenient since it was far from most of the restaurants and bars. 
Veronica guesthouse is a good options for those with lower budget. It has very comfortable and cozy room with lovely balcony. You can also enjoy their swimming pool! They are located in Calangute area. Book your stay HERE.
Sea Breeze Village Baga is a perfect option for those who want comfortable stay but not too expensive. Located in between Baga and Calangute it gives you many options and opportunities. Check out their lovely swimming pool here!
If you are looking for  luxurious hotel and prices are not an issue, check Le Méridien Goa. Spacious rooms, amazing bathrooms, pool and gym will make sure you enjoy your stay to the fullest. They even have a wonderful rooftop restaurant!
Both Baga and Calangute beaches are full of different beach shacks. They all offer pretty much same food and drinks. The only difference is the price. We Le Marin was one of the cheaper options. In town we used to eat at Shining star. They have good prices, delicious food and they can make it zero spicy! In Calangute we recommend Spicy Bella.
Our Baga and Calangute beach review
Both Baga and Calangute were our least favourite beaches. They are the typical Goa beach destination for locals. That means it is pretty crowded. You will surely stumble upon many tourists, mostly Russians. The laid-back relaxing vibe is just missing here. You'll get many selfie requests and many people were staring at me or "secretly" (sometimes they didn't even try to be discrete) taking photos of me in bikini. It might be a good place if you are looking for a place full of parties and bars. But again, it's mostly locals everywhere. If you're a woman it's better to avoid this place.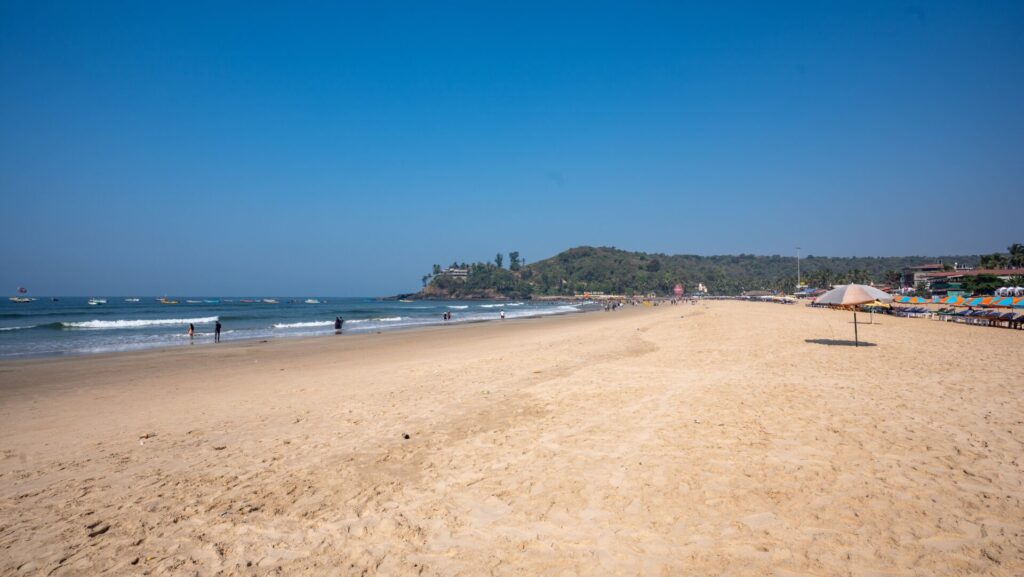 Both Baga and Calangute beach are actually a one super long beach. The water is not that clean (like in whole Goa) and there's many small waves. There is many water activities. The beach is full of bars and restaurants offering sunbeds during the day and parties at night. Sunsets are stunning though!
Tito's lane is the most famous place in Baga. It is basically a street full of tourist shops, bars and restaurants. It's like the main tourist hub. It is famous for its nightlife. But we thought you have more going on on the beach at night than here. To be honest, it is nothing special.
Baga is very famous for its nightlife. Just take a look at the photo and you'll see why. The beach is full of different bars that come alive each night. The music starts around 5pm. The problem is that there is a bar every 20-30 minutes and they all play really loud music. So in the end it's just very unbearable mix of 5 songs at the same time. All the bars only play Indian music at night. And there is many drunk locals running around.
Baga beach for New Year's
Baga beach for New Year's was the worst decision we could have made. Just look at how crowded it was. The closer it was to 31.12. the more people were coming. On 31. it was unbearable to stay on the beach. We had horrible experience. The beach is full of drunk men enjoying their holiday. One guy started touching me between my legs in the water!! Be very careful if you decide to come here. It's overcrowded. At night another guy touched my ass while I was walking along the beach. 
All the beach bars put up barriers and ask for entrance fees. Those can be even as high as 30€ per person. Some offer a dinner, others are all-inclusive (with alcohol all night). There are even some Indian celebrities performing in a few bars. Overall there's around 90% men and maybe not even 10% of women. It was a very unpleasant experience. If you want to spend New Year's in Goa as a foreginer go to Palolem or Anjuna!