Traveling long distance in India is something you can't avoid. It's huge country and many places are far from each other. We found trains to be the best and most relaxing way to travel long distance in India. Many people might get confused when buying a train ticket. Therefore we decided to write this guide about train travel in India.
Booking your train tickets in India might seem terrifying. We've heard many tourist saying they only book through some agency. Of course, you can do that. But it is sooo unnecessary! Booking train tickets all by yourself is really easy! Read our step by step guide. Save those few extra bucks you have to pay the tour agencies. 
First of all you have to understand how the train tickets work in India. To be honest it is very complicated and we're still not 100% sure about it. Let me try to explain. Most of the train get overbooked. They are often sold out. If possible, plan your journey ahead and get your tickets ASAP. You will probably not find any available trains 3-5 days before the journey. There are 3 types of tickets – confirmed, reserved against cancellatio (RAC) and waitlisted (WL). Your goal is to get a confirmed ticket. 
This ticket is so complicated, but I'll do my best to explain. If your ticket has "reserved against cancellation" status, it means you will for sure be able to board a train. You might and you might not get a seat. There is a big chance you will have to share one seat with another RAC ticket owner. How this works in reality? I cannot imagine. Avoid this if you can.
If the train is already fully booked, you can get a watlisted ticket. The number, for example WL16, indicates number of people on the wait list ahead of you. In order for WL ticket to be confirmed, someone else needs to cancel their ticket. I read that if your seat won't be confirmed the ticket is automatically cancelled and money refunded. To be honest I have no idea how this works. Other sources claim you can still board the train with this ticket but only the "unreserved" area.
After reading about the other two types of ticket, you probably already understood that you should aim for the confirmed ticket. With confirmed ticket there's nothing to worry about. You can simply board the train and find your seat/berth. It will be 100% yours during your journey. So how do you get the confirmed ticket? Read on to find out.
You can find many online platforms that offer train tickets. Some are Indian, but also 12go.asia offers this service. 12go for examples confirms your ticket within 24 hours. We strongly suggest against online booking! We've heard different opinions – some say it's super safe and reliable, while others warned us against booking online. To ensure you get the ticket you want head to the nearest train station.
IRCTC, the main train operator, has a pretty good website. Check it out here. If you're lucky, you might manage to book your train ticket directly on the website. For most tourists it doesn't work. But it is the perfect place to find your train!
Once you hit search a page with all the trains will appear. Take a look at the example above. It is a train from New Delhi to Varanasi. You can clearly see the types of classes available – CC and EC. Choose your class and check if the ticket is available. In this example the earliest available ticket is for 08.03. All the other dates are waitlisted. You can see those crazy numbers of people waiting for the confirmation… 
If you book well in advance, you will be able to get a confirmed ticket. Make sure to think about the public holidays, too. India is a huge country and many people use the train system daily. You can probably imagine how hard it is to get a train ticket around Christmas or New Year. Once you found the right train, you are ready to head to the nearest railway booking center.
Of course, you can also just go directly to the railway station and ask about the trains. But there are often 5 classes and at least 10 trains a day. You would spend hours at the booking counter. And the seller will go crazy. It's better to come prepared and now your train. Note down all the information or take a screenshot of your desired train.
Booking at the ticket reservation center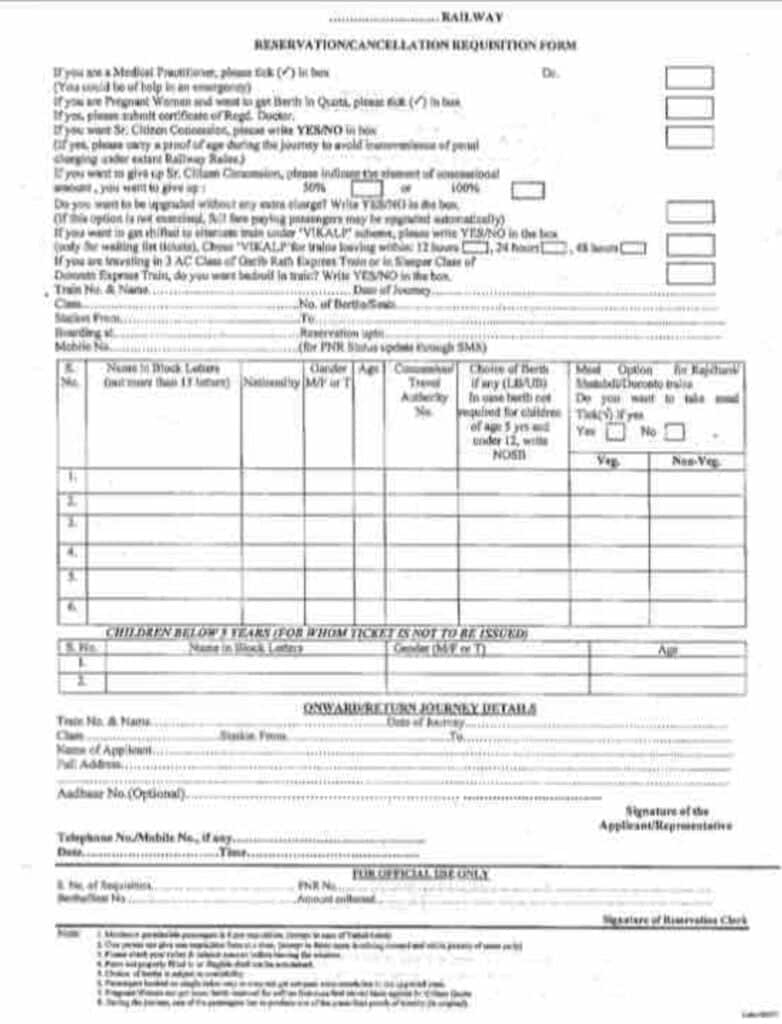 1.Find a reservation center. They are probably at every railway station. Very often the booking offices are in a separate building. It might be a few minutes of walk from the train station itself. Do not panic, it's not a scam. 
2. Fill out the form. It is a piece of paper you will be given. Simply write down your journey details, train number, passenger details and required class.
3. Once your form is filled out, head to the reservation counter. The employee will copy all that information to the computer. 
4. Don't forget your passport! You will need it. The form asks for passport number as well as visa number. The employee will also want to see it.
5. Collect your ticket and pay. The price will be exactly the same as shown on the website. Make sure to bring cash with you. Your card is very unlikely to work.
It is possible to cancel your tickets at the reservation counters. You fill out the same form like when you book a train. You have to pay a cancelation fee. It depends on how much in advance you cancel and on the class you booked. The fee is not high at all. Usually it's around 2-4€ per ticket. You can find more information here.
There are multiple classes in the train. Where you will sit might also be influenced by the availability of the tickets. The first two classes – CC and EC are only found in day trains. The rest can be found in night trains.
As mentioned above, the AC Chair car can only be found in day trains. It can be 2 or 3 seats in one row. There are overhead shelves for luggage. Luggage storage can also be found before the entrance to the sitting area. Chairs should have small tables where you can place your laptop or enjoy a meal. There are some power outlets but don't count on that. AC should be on the whole journey. However tha's might not be the case. Overall it is a very pleasant class to travel in.
Executive chair class is comparable to a business class. The seat are more spacious and comfortable. They offer more space for legs.    The price is much higher than for CC. It's up to you to decide how much comfort you need.
Sleeper is the cheapest class available. It consists of compartments with 6 berths – 3 and 3. During the day, people mostly sit down at the lower berth. On the side there are 2 side berths. Lower one converts into two seats for the day. There's no AC. The windows can be opened and there are fans. No bed sheets or pillows are provided. It's usually used by lower class citizens. We only took a look after we arrived at our destination and the smell in this cart was terrible. But it's a great option if you really wanna go low-cost.
AC 3 tier is pretty comfortable option. The architecture of a cart is same like in sleeper class – 3 berths above each other, 6 in one compartment and 2 side berths in the aisle. The only difference is that there's AC. Apart from that, you also have curtains which give you some privacy. Bed sheets, blanket and a pillow are provided.
If you want a bit more space and privacy, you can opt in for te AC 2 Tier. There are 2 side berths in the aisle, 4 berths in a compartment. There are curtains everywhere. The cart has AC. You'll be given bed sheets, blanket and a pillow. Don't worry, they are usually clean straight from washing facility. It is the best option, pretty safe.
In our opinion it's not really necessary to pay extra for the first class. In the first class you  have 4 berths in a separate compartment. If you're a couple, there's almost 0 chance you will be alone in the compartment. It will be shared with someone else almost for sure. Otherwise it looks the same like AC 2 Tier class. 
Generally there is plenty of food in the trains. The staff keeps runing around the train with food and drinks. It's some classical India meals like biriyani, samosa and chai. In case you don't like spicy food, bring your own food. We only ate in the train once. The food was cheap and delicious. The drinks available include chai, coffee and water. Anyway it's always a good idea to have some snacks with you.
Bring your own toilet paper.
Have some snacks and water.
Have warm clothes handy.
Buy earplugs or download some relaxing music. Some people are really loud.
Download train tracking app such as ixigo. You can check the train delay there.
Even if you book two tickets together, you might get seats that are not together. Count with that.
Keep your valuables handy. 
Have a hand sanitizer. This applies to your whole Indian trip 😀